My Birthday Haul
A round up of some awesome presents that I got for my birthday
Later this week is my birthday, a combination of my wife not being able to hold her water and the fact I won't get to open stuff on my birthday means that I got to open my presents tonight.
I was also lucky enough to receive my birthday present from my mum early because it was being posted to my flat.
So happy with the haulage that I wanted to write about it!
Here is what Elaine got me
Light up USB lead for my Raspberry Pi
An LED Light matrix for my Raspberry Pi
Some blue beer (had a glass, it is bloody blue as you will see in the pictures later!)
An Unt mug
An amazing card
A 3Doodler
An egg-squarer
Batman – Death of the Family
Some God is Dead comics I was missing
My mum got me an amazing laptop bag.
Best wife and mum ever! (If you buy me a present you will also be the best person ever, you cannot be my wife or mum though).
Here some pictures!
A 3Doodler!! For making 3D things out of plastic
Lovely laptop bag my mum got me!
Blue Beer
My first attempt at a cube using the 3Doodler!
My Unt mug!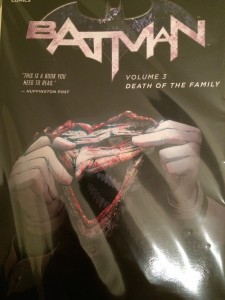 Batman – Death of the Family
Blue beer is blue
PiGlow for the Raspberry Pi
An Egg Cuber
Amazing Birthday card!
---