Companies House First Time Director Seminar
My thoughts on the Companies House First Time Director Seminar
Earlier this year Elaine and I attended a first time directors seminar in London by Companies House. I found it useful and I wanted to share some thoughts on it.
Premise
The thrust of the seminar is to help newly appointed directors understand what their responsibilities are around the Companies Act 2006.
When you first set up a company or become a director there are a lot of terms thrown at you like "Person of Significant Control", "Confirmation Statements", etc. It is all very daunting.
The seminar helps explain some of these terms and talks about why you should care.
It wasn't just people from Companies House giving talks, there were also people from places like the Office for National Statistics and the Intellectual Property Office.
Location
We attended a London based event, although looking at their calendar I can see they have events all around the United Kingdom.
Ours was very close to Blackfriars tube station, which is easy to get to from most places in London, it is well served by tube lines and bus routes.
The event space was slightly cold, but very spacious and well staffed. Everything was clean and tidy.
The Setup
The day started with tea/coffee/biscuits before being brought into the main area. There were stands set up for each of the various departments that were involved in the day.
There were several talks from different people going through the various responsibilities required of a director and some of the services you can make use of to help meet those responsibilities.
Everything ran smoothly and there was plenty of time for questions throughout.
What did I learn
For fear of misrepresenting what was said, I won't go into specifics of what I learned, but it was a lot!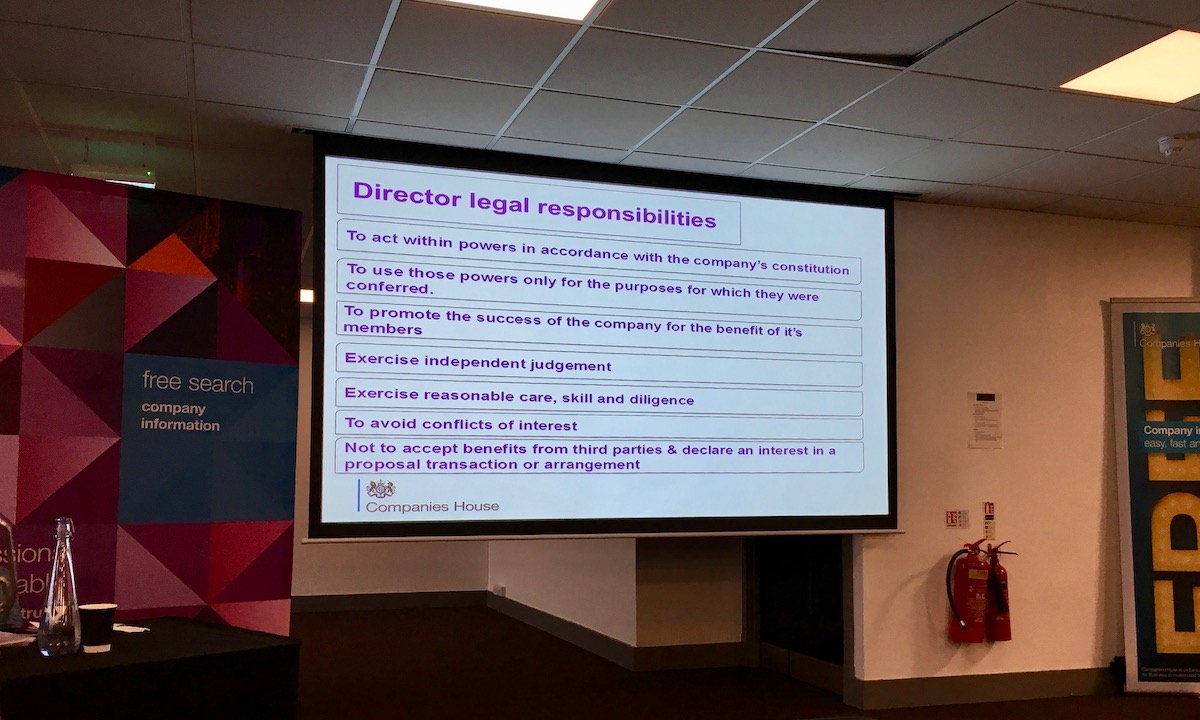 We're fortunate to have really great accountants who do a lot of the business admin side of things for us (like confirmation statements). This meant that as well as getting clarity on the responsibilities and services I left with a load of questions for my accountants.
As was explained during the event, resources were made available afterwards in case there was something you missed.
One of my main takeaways was seeing just how many free resources are available to try and keep you well informed. Not just from Companies House but many of the government departments.
I enjoyed the talk by the Intellectual Property Office, they covered things like copy rights, trade marks, patents, and designs. This was all new to me so I found it fascinating.
CPD Points
I'm not in a position to care about Continuing Professional Development points, but if you are, then you can accrue them as part of attending. I know these are important to folks at different parts of their careers.
Conclusion
This free event will take up most of your day, but you get a lot of clarification on things and I certainly found it both enjoyable and useful. I would recommend booking into one if you are a new director or you feel like you need a refresher.
And of course if you are a new company and you need some web development done, hire us!
---